The Edge Chronicles 7: The Last of the Sky Pirates (Rook Trilogy #1) by Paul Stewart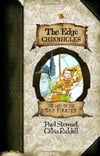 Rook Barkwater lives in the network of sewer-chambers beneath Undertown, the bustling main city of the Edgeworld. He dreams of becoming a librarian knight – one of those sent out to explore the mysteries of their world. Somewhere out there lie the secrets of the past – including the lost floating city of Sanctaphrax – and hope for a future free from the fear of tyranny.
When his chance comes, Rook breaks all the rules and sets out on a journey to the Free Glades. His luck and determination lead him from one peril to another until he encounters a mysterious character – the last sky pirate – and is thrust into an extraordinary adventure.
The Last of the Sky Pirates is the first book of the Rook Saga – third trilogy in The Edge Chronicles, the internationally best-selling fantasy series, which has featured on the UK and the New York Times best-seller lists and sold more than 3 million copies. There are now 13 titles and four trilogies in the series, but each book is a stand-alone adventure, so you can read The Edge Chronicles in any order you choose.