The Sword of Waters (The Shield, Sword, and Crown #2) by Hilari Bell, Drew Willis (Illustrator)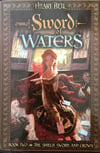 "I'D LIKE YOU TO FIND THE SWORD FOR ME. DO YOU THINK YOU COULD HANDLE THAT?"
Arisa isn't certain how to respond when her mother, the Falcon, formerly a dangerous bandit but now lord commander of the army and navy of Deorthas, entrusts her with this extremely special mission.
Everything changed for Arisa when she and her friend Weasel stumbled upon the ancient shield rumored to bestow power upon whoever holds it. With the shield, the Falcon was able to gain her new station, bringing Arisa into a world of royalty Arisa isn't even sure she enjoys. Now the Falcon wants Arisa to get close to young Prince Edoran, and join with Edoran and Weasel to search for the legendary sword that matches the shield.
As Arisa's search progresses, however, she realizes she may be in danger from a deadly stranger. Worse -- she and her friends may be in even graver danger from someone they know all too well!
Critically acclaimed fantasy author Hilari Bell continues the captivating trilogy begun in Shield of Stars with another thrilling, surprising, and wholly satisfying novel.