The Yggyssey: How Iggy Wondered What Happened to ...(Neddie & Friends #2) by Daniel Pinkwater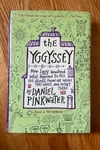 The Yggyssey: How Iggy Wondered What Happened to All the Ghosts, Found Out Where They Went, and Went There
A sequel to critically acclaimed THE NEDDIAD told from the point of view of Ned's friend, Iggy
La Brea Woman is missing. Valentino, too. The ghosts of Los Angeles are disappearing right and left!
Iggy Birnbaum is determined to get to the bottom of this mystery, no matter what Neddie Wentworthstein and Seamus Finn say.
There's just the little matter of traveling to another plane of existence, first…and then, of course, not pissing off a witch once she gets there.
From L.A. to Old New Hackensack, fans of The Neddiad will be delighted to join up with Iggy, Neddie, Seamus, and the usual apparitional entourage for another weird and wonderful adventure by Daniel Pinkwater. As Neil Gaiman said about the first book: "it's funny and tender and strange and impossible to describe. What Pinkwater does is magic and I'm grateful for it."
THE YGGYSSEY is vintage Pinkwater: laugh out loud funny, incredible characters, dialogue, humor. And like THE NEDDIAD, this book will be similarly illustrated throughout by Calef Brown.
Dog Gone Note: This book is in excellent condition.