Penelope Crumb Is Mad at the Moon by Shawn K. Stout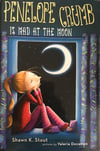 Penelope Crumb is not having a very good week. First she accidentally comes to school dressed as an elephant (dress like an animal day is next week), and then in gym class she's forced to square dance. With a boy who is known as Lippy Gordon because of how sweaty his lip is. All the time. Penelope is mortified. And then is extra mortified when she discovers that Lippy doesn't want to dance with her either!
When Grandpa tells Penelope that he sings to the moon when he's having trouble, Penelope grabs onto this plan. But sometimes you need more than the moon to fix things.
Another sweet and funny Penelope book. Equal parts humor and heart, this is a character not to be missed. Perfect for fans of Ramona Quimby, Judy Moody and Clementine, and for fans who have just outgrown Junie B. Jones and Katie Kazoo.
Dog Gone Note* Is part of a larger series but can be read independently. This book is laugh out loud funny. It is in excellent condition.